Wood Flooring Photo Gallery
Hardwood
Wood flooring is timeless. It enhances the warmth of any home and complements the decor of any room.
Like a fine piece of furniture, wood flooring increases in value and becomes more beautiful with time. In a national survey, 90 percent of real estate agents said that houses with wood flooring sell faster and for more money.
Wood is a natural resource, renewable and recyclable. Buildings, barns, ships and other structures made of wood often find a second life in wood flooring, cabinets, walls and ceilings. And leading allergists agree that wood floors are the perfect choice for a healthy home.
The state-of-the-art technology and almost limitless choices of today's stains, finishes, styles and designs make wood flooring one of the most practical, easy-care and versatile floor coverings today. Maintained properly, wood flooring should never have to be replaced.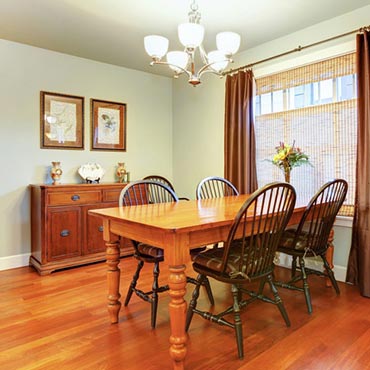 Education Links
Learn More
At Georgia Quality Carpet Outlet we believe an educated consumer is our best customer.
Hardwood Styles
Whether it's Rustic or Modern, Contemporary or Classic, we've got you covered. Stop in to view one of the largest collections of Prefinished woods available.